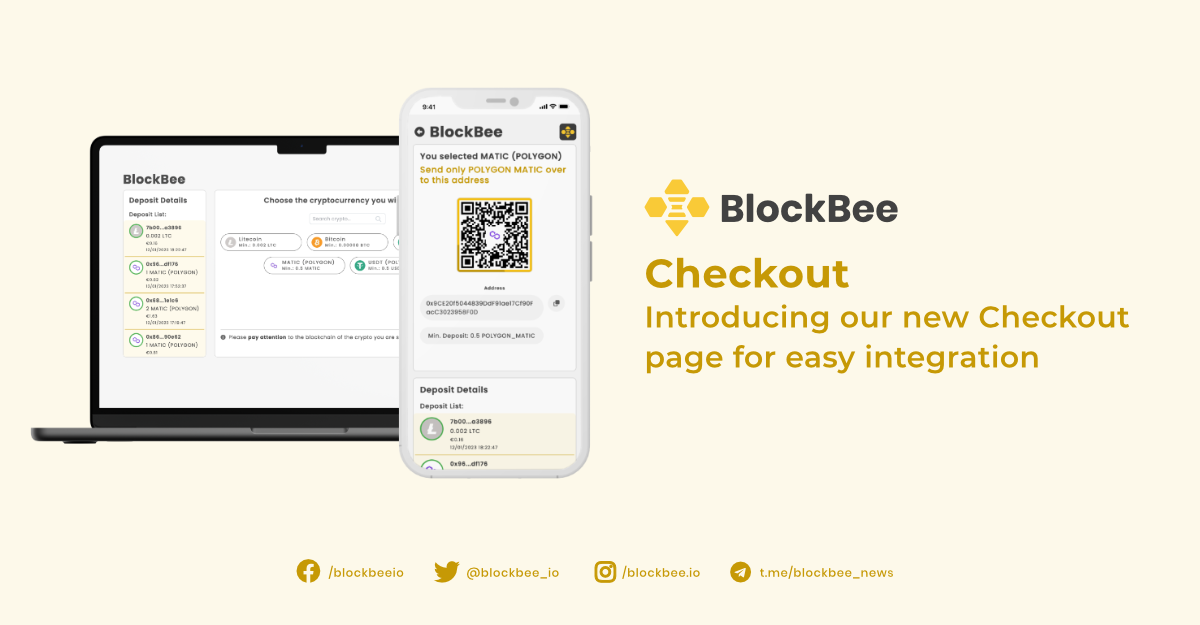 Introducing Checkout
10 months, 2 weeks ago
Blockbee, the premier provider of online payment solutions, has just launched its new Checkout page for payments and deposits. This innovative solution allows businesses to easily integrate our service into their platform.
The process is simple, all you have to do is request a new Checkout page, whether it's for payments or deposits, redirect your customer to it, and once the customer completes the payment, they will be redirected back to a "success" page with a secure token in the URL to confirm the payment. The deposit doesn't have a redirect_url parameter so it won't redirect the customer, will just show the new deposit in the Checkout page.
To ensure that you are notified when a payment or deposit is made, you can use the notify_url parameter. This is a URL on your platform where we will send IPNs (Instant Payment Notifications) to validate the payments or deposits in your platform. This feature is similar to our current callback system, and it gives you more control over the payment or deposit process.
The redirect_url is mandatory for payment requests, while non-existent on deposit requests, while the notify_url is optional on payment requests but mandatory on deposit requests.
By using Blockbee's payment gateway, you can rest easy knowing that the payment and deposit part is fully processed on our end. This means that you can focus on running your business while we take care of the technicalities of accepting payments and deposits.
As always, we highly value customer feedback, and we would love to hear what you think about our new Checkout page for payments and deposits. This new feature is a great step forward for our company, and we are confident that it will make your experience with our service even more seamless and convenient.